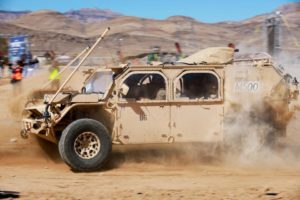 Las Vegas, NV (March 13, 2023) – Four Flyer 72 Ground Mobility Vehicles 1.1 (GMV 1.1) successfully raced in the 2023 Mint 400 "Great American Off-Road Race" in Las Vegas with Green Berets from 5th Special Forces Group (Airborne) placing 1st and 2nd in the race's Modern Military class.
Meanwhile, a classic Flyer One vehicle placed 1st in the race's Vintage Military class for the 4th year in a row.
This year's Mint 400 featured the highest number of Flyer 72 vehicles to date, with two participating last year and one racing in 2020.
Designed and built as an all-terrain, high mobility vehicle, the top-placing Flyer 72s were able to complete the limited 200-mile race in approximately 6 hours, 29 minutes and 6 hours, 41 minutes, respectively.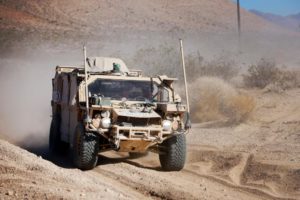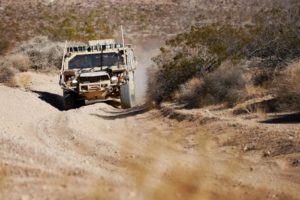 About Flyer Defense
Flyer Defense, LLC was formed to provide mission-specialized, lightweight, high mobility, all-terrain tactical wheeled vehicles capable of internal transport in rotary and tilt wing aircraft. Flyer provides purpose-built vehicles and logistics support for U.S. Army, special operations forces and global allies. Always prioritizing the users and their missions, Flyer vehicles increase ground mobility, allow rapid deployment into contested areas, and enable military ground forces to move quickly for extended distances and over difficult terrain. The Flyer® family of successfully tested and certified vehicles are modular platforms, allowing rapid vehicle customization for immediate operation-relevant configuration.
To learn more about Flyer Defense, please visit www.flyerdefense.com.