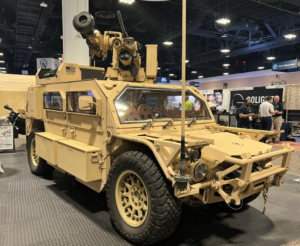 Tampa, Fla. (May 25, 2022) – In May, Flyer Defense displayed its Flyer 72- Heavy Duty (F72-HD) Javelin kit configuration during the 2022 Special Operations Forces Industry Conference (SOFIC) in Tampa, FL.
With a gross vehicle weight of 13,000 lbs., the F72-HD can be armored in the field and equipped with a Kongsberg Common Remotely Operated Weapon Station (CROWS II) system. The new kit allows the Flyer to stow up to nine Javelin missiles with six stowed in the rear, two on the roof and one loaded.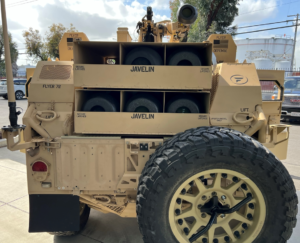 The Flyer family of ground mobility vehicle platforms is the elite solution in the area of lightweight, all terrain wheeled tactical vehicles. With an impressive payload of more than 5,000 lbs. and a 1:1 payload-to-weight ratio, Flyer Defense vehicles are transportable both internally and externally with rotary and tilt wing aircraft.
The Flyer 72 is in operational use as the USSOCOM GMV 1.1 solution and the U.S. Army A-GMV solution and currently in production for the United Arab Emirates Armed Forces.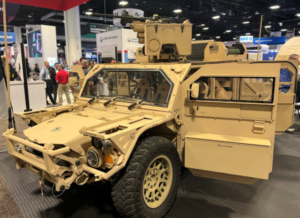 About Flyer Defense
Flyer Defense, LLC was formed to provide mission-specialized, lightweight, high mobility, all- terrain tactical wheeled vehicles capable of internal transport in rotary and tilt wing aircraft. Flyer provides purpose-built vehicles and logistics support for U.S. Army, special operations forces and global allies. Always prioritizing the users and their missions, Flyer vehicles increase ground mobility, allow rapid deployment into contested areas, and enable military ground forces to move quickly for extended distances and over difficult terrain. The Flyer® family of successfully tested and certified vehicles are modular platforms, allowing rapid vehicle customization for immediate operation-relevant configuration.
To learn more about Flyer Defense, please visit www.flyerdefense.com.