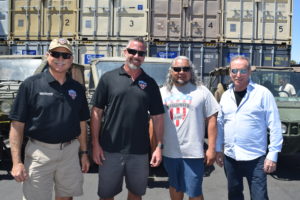 LOS ANGELES (August 18, 2023) – Flyer Defense, a Los-Angeles based leading provider of lightweight, high-mobility military vehicles, has proudly donated four vintage Flyer vehicles to nonprofit veteran organization, Warfighter Made.
Warfighter Made, known for its dedication to enhancing the mental health and well-being of military service members, veterans, and their families, employs recreational therapy, camaraderie therapy, S.T.E.M. educational youth programs, and family-oriented events to foster connection and healing within the military community.
"We are honored to collaborate with Warfighter Made to support their invaluable initiatives aimed at enhancing the lives of our military service members and veterans," said Oded Nechushtan, Founder and CEO of Flyer Defense. "Our vehicles are not just instruments of mobility; they represent our commitment to those who have dedicated their lives to protecting our nation."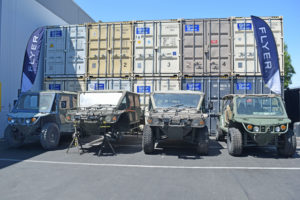 Flyer has supported Warfighter Made since first donating a Flyer I in 2014 and another in 2015. For the past decade, members of Warfighter Made have raced the vehicles in 10 major off-road races, earning eight 1st place trophies, the most recent of which was at the 2023 Mint 400 in Las Vegas.
About Flyer Defense
Flyer Defense, LLC was formed to provide mission-specialized, lightweight, high mobility, all- terrain tactical wheeled vehicles capable of internal transport in rotary and tilt wing aircraft. Flyer provides purpose-built vehicles and logistics support for U.S. Army, special operations forces and global allies. Always prioritizing the users and their missions, Flyer vehicles increase ground mobility, allow rapid deployment into contested areas, and enable military ground forces to move quickly for extended distances and over difficult terrain. The Flyer® family of successfully tested and certified vehicles are modular platforms, allowing rapid vehicle customization for immediate operation-relevant configuration.
To learn more about Flyer Defense, please visit www.flyerdefense.com.